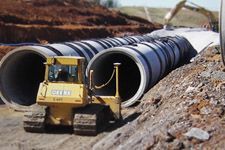 King Construction Services industry leading equipment and experience have allowed us to become one of the most well respected and reputable paving and underground utilities contractors in the Grand Strand.
When large areas of previously unpaved ground are paved it is important to address drainage needs. This is where King's underground storm drain and catch basin services are needed.
We have the experience and know-how to make sure your parking lot or other paved surface drains properly and remains fully functional regardless of weather conditions.